The daily Informer published an article under the title: "Trump imposing sanctions to Shiptars: Not abolishing taxes until Monday will result in a blockade".
It the sensational manner are been highlighted the alleged statements of the American President, Donald Trump, on the imposition of sanctions to politicians from Kosovo and on his deadline given in order to resolve the issue of achieving compromise between Belgrade and Pristina, otherwise Kosovo would face sanctions.
As certain Serbian media outlets indicate these statements as "relevant", the information source remained quite unclear to us. The claims distributed on their portals were not however credible and did match neither with those of State Department officials nor with those of their source, the media in Pristina. This is also confirmed by the statement of Phillip S. Kosenett, the US Ambassador in Kosovo: "We invite Kosovo and other regional actors to show their dedication to normalization; regional peace and stability, and to the EU integration path. Once again, our position on the current suspension of import taxes from Serbia and Bosnia & Herzegovina represents one of the necessary measures in order to return the momentum of a dialogue process. We expect other actors to take constructive measures themselves". Likewise, the US Ambassador in Belgrade, Kyle Scott, highlighted the importance of negotiations between these two parties, and in the morning show of Prva TV he claimed that the sanctions were not solutions, indicating that at last the only acceptable manner for these two parties was to achieve the compromise.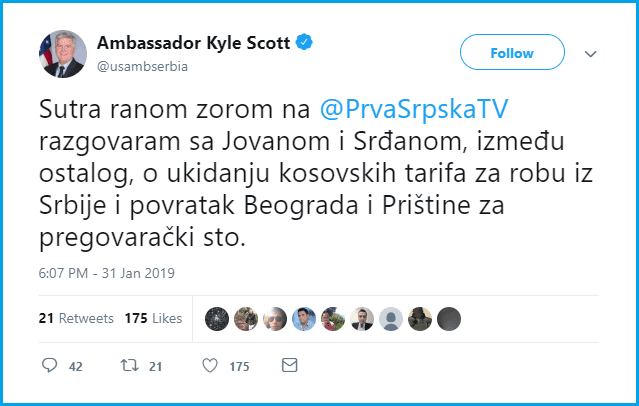 Additionally, the two US Ambassadors in a joint statement presented the position of President Donald Trump, who invited the leaders of Serbia and Kosovo to seize the moment and use their political leadership to make a decision with a view to reconciling the interests of both states.
The media in Pristina in the Albanian language reported on this topic and denied the statements, while the ones in the Serbian language reported similarly as Informer did. Mentioning "the media in Pristina" as the source without stating its concrete name, represents a type of deceiving reporting on the part of Informer.
Additionally, this analysis is supported by the post of the President of Kosovo, Mr. Hashim Thaçi, on his official Facebook profile in the midst of these speculations: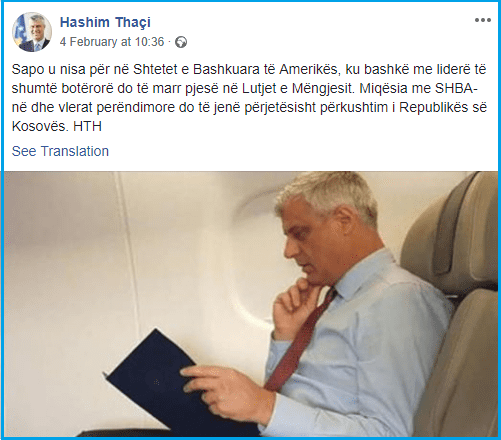 However, what is certain is that Informer reported the news in a sensatinal manner and that through different sources it relies upon the same claim aiming to confuse the public and highlights facts that are to be taken with a grain of salt.