One of tonight's breaking news was that the Montenegrin police found 26,500 euros, laptops, and Serbian flags in the possession of three Serbian citizens and one inhabitant of Pljevlja, on the Rance border crossing.
The citizens of Serbia, Rastko Pleskonjic, Mileta Mitrovic, and Nemanja Stajic as well as the Pljevlja inhabitant Radosav Sljivancanin that were on their way to Niksic, were controlled on the basis of operative data upon their entrance to Montenegro. The police temporarily seized all of their money and laptops and tomorrow, their laptops and cars will be examined.
However, the news portal Novosti tried to disinform the public. What is this about?
In a text entitled ARRESTED FOR POSSESSING SERBIAN FLAG! New scandal in Montenegro, Serbian citizen arrested on the border – in custody for hours, the news portal Novosti published a piece of disinformation.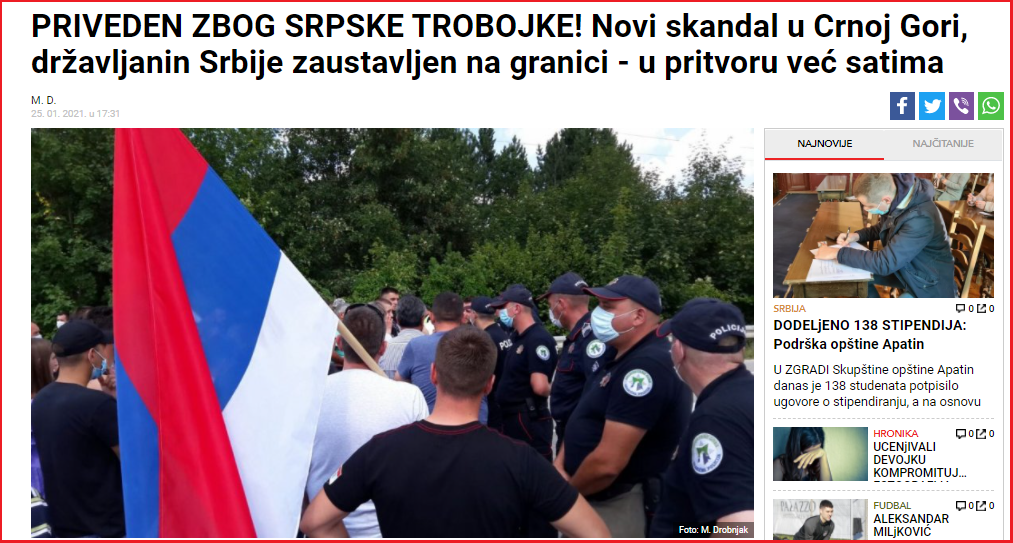 That news portal states that the Serbian citizen R.P. (51) was arrested by the Montenegrin border police on the Rance border crossing after it had been concluded that he possessed ten Serbian flags.
Allegedly, he stated for Novosti that he has spent three hours in the Police Department in Pljevlja and that he has no idea why he has been kept in custody for so long because of a couple of flags that happened to be there.
This way, the key story details were omitted. In other words, the fact that a significant quantity of money and three laptops were seized, which is the real reason behind the arrest. Such reporting additionally fuels the atmosphere and narrative on the Serbs being endangered in Montenegro.
The same text was republished by the news portals IN4S, Espreso, Srbija danas.