On April 11, 2019, the news about NATO intercepting a passenger plane in the Montenegrin airspace circulated through the Balkan media, along with headlines, such as: Drama in the Montenegrin Sky, NATO Hunters Strike Again on the Border with Serbia, This is a Huge Incident, which led to a benign air policing operation taking quite opposite connotations.
Media outlets, among which there were AA, Alo, Balkans Al Jazeera, Blic, Dnevni list, IN4S, Informer, Mondo, Novosti, Politika, Pravda, Radio Sarajevo, Sputnik Serbia, The World News, Vesti reported that two fighter aircraft of the Italian Army, which are in the service of NATO, intercepted a passenger plane above the airspace of Montenegro, which had previously lost communication with air traffic control, however, the Ministry of Defense quickly denied that the operation had taken place in airspace of Montenegro.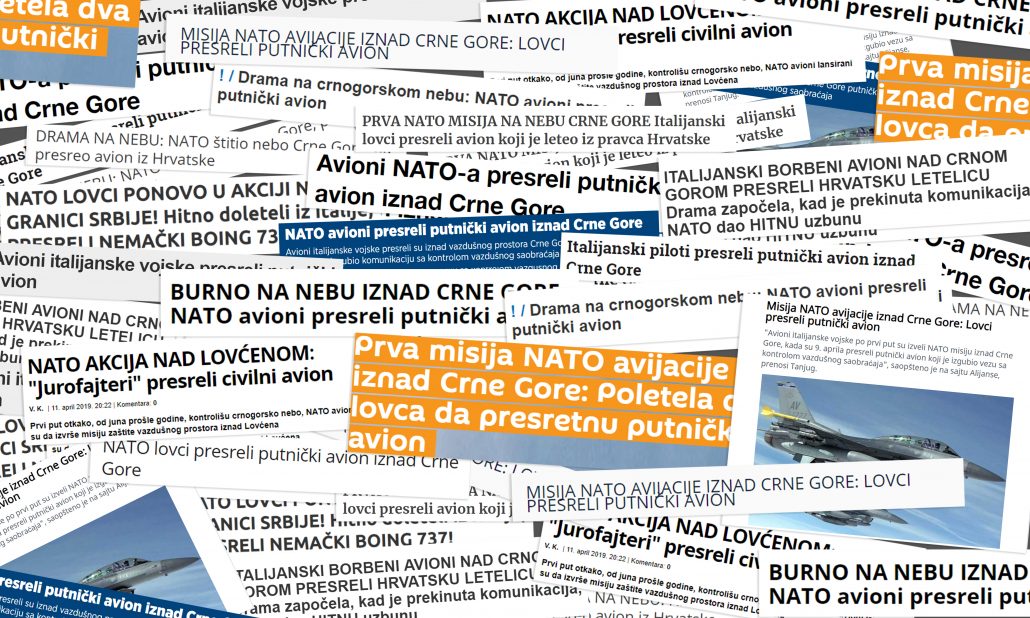 The announcement states that the NATO Combined Air Operations Centre Torrejon, Spain, notified the Air Surveillance and Reporting Center of the Army of Montenegro on April 9 that a passenger plane B-737 was expected to enter the airspace of Montenegro from the direction of Bosnia and Herzegovina. The passenger plane B-737 lost communication with the Air Traffic Control from Zagreb, which caused it to move south towards Montenegro and Albania.
The Air Surveillance and Reporting Center contacted the Air Traffic Control of Podgorica, where they got feedback that they had communication with all aircraft, including B-737. However, as the procedure stipulates and in accordance with the NATO Air Policing Mission in Montenegro, that began on June 5, 2018, which implies that the airspace of Montenegro will be protected by the fighter aircraft of the Air Forces of Italy and Greece, two Italian Eurofighters conducted interception and visual identification of the aircraft in order to remove all doubts that there were some illegal actions, but that happened in the Albanian airspace.
The loss of a radio connection with Zagreb was due to a misunderstanding between the civilian air traffic control and the airplane crew. After maintaining regular contact with civilian controllers, the plane continued to travel to its destination in Hurghada, Egypt.