Facebook took down 50 Instagram accounts that indicated links to the Internet Research Agency (IRA) and posted 75,000 times.
An analysis of the recent disinformation campaign by Graphika, a leading data science and network analysis firm, reveals how Instagram accounts posting about US social and political issues and the 2020 election aimed to polarise communities of swing states ahead of the 2020 US presidential elections. Facebook, which is facing public pressure to crack down on election-related influence efforts on the platform, announced the takedown last week.
Facebook concluded that the operation originated from Russia and showed some links to the Internet Research Agency, the Russian troll factory that previously targeted US audiences and the United States presidential election in 2016. The IRACopyPasta campaign, which received this nickname due to its close resemblance to the previous IRA campaigns, focused on socially divisive issues like race, immigration, and Second Amendment (gun ownership) rights.
The 50 accounts claimed to represent various politically active US communities from both sides of the political spectrum, including black activists, police supporters, LGBT groups, Christian conservatives, Muslims, environmentalists, and gun-right activists. Some supported Senator Bernie Sanders and some President Donald Trump.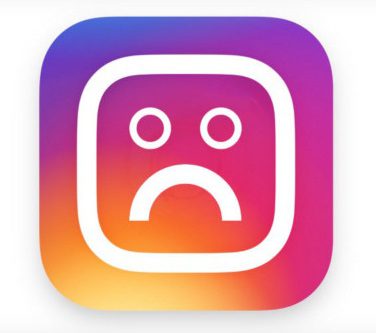 Notably, a number of accounts representing both left- and right-wing views attacked Joe Biden, who is widely considered to be the leading Democratic presidential candidate based on current polls. This brings back memories of similar strategy deployed by the IRA against Hillary Clinton during the 2016 Presidential elections campaign. In addition, some accounts also attacked Democratic candidates Kamala Harris and Elizabeth Warren, who are competing for Democrats nomination with Bernie Sanders. Almost half of the 50 accounts claimed to be based in swing states, especially Florida.
But the similarities with previous IRA campaigns do not stop with choice of targets and content. Some of the 50 Instagram accounts actually reused content originally produced by the IRA, though recreated IRA content is insufficient grounds on its own to provide a firm attribution. Moreover, multiple accounts shared the same content just hours apart, indicating that they were, more than likely, part of the same network.
Many posts only contained memes without any accompanying text, an approach possibly intended to reduce the risk of language errors – one of the most important telltale signs of inauthentic Russian-origin content. In the same vein, posts that did include text were usually a copy-paste of viral posts originally created by American accounts – hence the moniker IRACopyPasta. Screenshots of tweets from genuine Americans were also used.
Most of the posts by these Instagram accounts were about general news, probably intended to develop the brand and credibility of the online persona. In terms of reach, some posts gained hundreds of likes, although these numbers were orders of magnitude lower than the American originals they copied. Most of the accounts had fewer than 5,000 followers and only the account focusing on environmental issues had more than 20,000 followers.
False information labels
The app will add false information labels that obscure posts that have been debunked by Facebook's fact checkers, the company announced.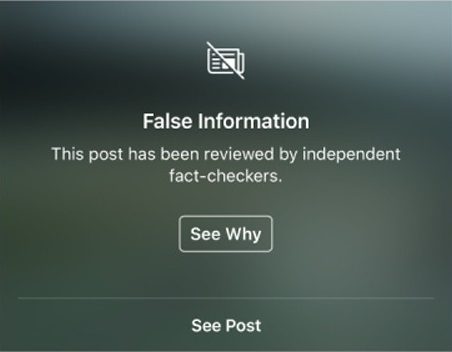 The labels, which will roll out over the next month, will appear on posts in Stories and Instagram's main feed. Users will still be able to view the original post, but they'll have to click See Post to get there.
The update comes less than two weeks after the Senate Intelligence Committee released the second volume of its report on interference in the 2016 election, which called Instagram the most effective tool used by the Internet Research Campaign.
Instagram will also warn users who attempt to share a post that has previously been debunked. Before the post goes live, they'll see a notice that fact checkers say it contains false information, with a link to more information. They can still opt to share the post with their followers, but it will appear with the false information label.
In addition to clearer labels, we're also working to take faster action to prevent misinformation from going viral, especially given that quality reporting and fact-checking takes time, the company writes. In many countries, including in the US, if we have signals that a piece of content is false, we temporarily reduce its distribution pending review by a third-party fact-checkers.
The steps are the most aggressive that Facebook has taken to reduce the spread of viral misinformation on Instagram.