New and fake public opinion research appeared yesterday on social media. It is stated in the post that the IPSOS agency conducted a piece of research for one political party in August.
IPSOS agency said for the DFC that the piece of research was not theirs, reminding that it is not the first time that the name of their agency has been misused.
Fake data of the research that the Ipsos allegedly conducted have been appearing lately. Taking into consideration that the data mentioned in these articles do not correspond to any research of the Ipsos agency even though our logo was used, the démenti of the information should be published, said Vladimir Raicevic, the CEO of Ipsos for Montenegro.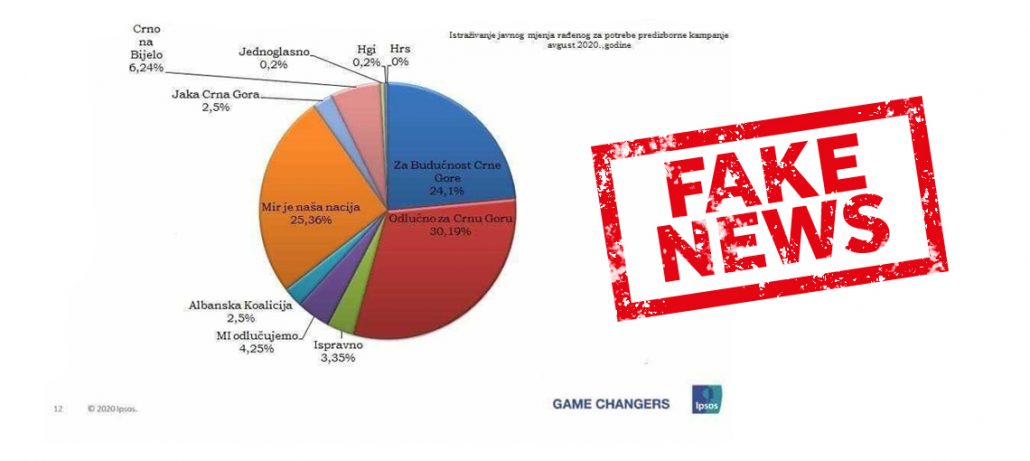 He appealed to all media outlets to verify the credibility and truthfulness of the data before publishing them or to publish the data while stating their true source, without misusing the name of Ipsos agency.
Besides, when Ipsos publishes the data of the research, as a rule, we also publish the interpretation of one of the authorized Ipsos researchers or publish them on our website, Raicevic said.
This is not the first time that the fake news predicting the election results have appeared on social media. Last week, a fake piece of research for the local elections in Budva appeared on social media. Allegedly, its author was the Center for Democracy and Human Rights (CEDEM). CEDEM stated that this piece of research was not theirs, adding that they always publically present their public opinion surveys.