There are several topics that have being recycled for years, and certain media will see to provide some of them with the never-ending shelf life. Considerable share of conspiracy theories, spins, unverified and disinformation narratives on the territory of Montenegro, concerns not as much Montenegro, as the NATO Alliance. Such narratives, playing the emotional card, due to the unpleasant events from 90s, have their target audience, all with the task to further polarize the Montenegrin society and divert the course from relevant and crucial issues for future of our country, but also of the region.
A number of regional media have reported the statement of a NATO official, who said for Pobjeda newspapers the following: "The mission is open for members and partners and we already have Australia, Finland and Sweden participating in it. We would like to compliment participation of Montenegro, since we have excellent relations with your country, although our process of introducing a member may sometimes take a while", during a briefing at NATO Headquarters, which dealt with the NATO Mission Iraq (NMI). However, partial reporting is utmost unprofessional, all with a view to deceive and provide disinformation to the public, as well as to further discredit NATO Alliance.
What has actually happened?
At NATO Summit in Brussels this July, on the requirements of the Iraqi government, allied leaders launched new training mission in Iraq, named NATO Mission Iraq (NMI). The new mission is based on trainings and efforts with the aim of building capacities, that has already been carried out in Iraq through NATO Training and Capacity Building Activity in Iraq.
The Mission was launched in the end of October and consists of 500 members. Apart from member states, soldiers from Australia, Finland and Sweden have taken part.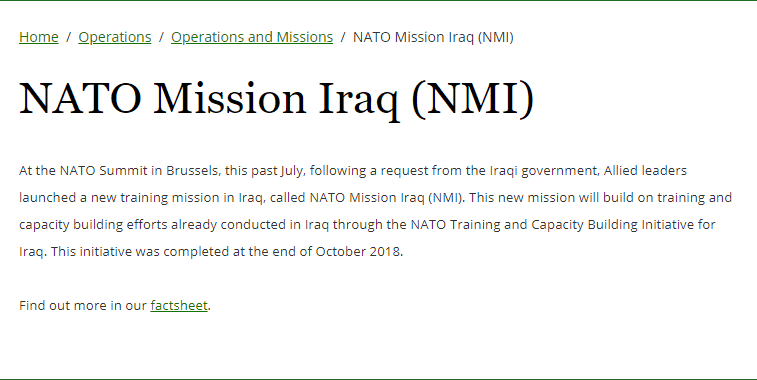 source: nato.int
Thus, this is a non-combat mission with the aim of building more efficient, inclusive, sustainable and responsible defense and security structures. Also, it will strive to improve professionalism of Iraq forces and security institutions, by helping Iraq build capacities for preventing ISIS reemerging.
However, unlike Pobjeda, a number of portals, while reporting, has decided to omit crucial part, i.e. non-combat character of the mission, with a view to train people. On the other hand, the emphasis of the narrative was that Montenegrin soldiers are going to fight in Iraq, which caused strong reactions and disapproval expressed through numerous comments posted on portals, knowing that it is a high-risk area of crisis, where the fight against ISIS continues.

Additionally, they referred to the recent statement of the Minister of Defense, Boskovic saying that Montenegro was interested in participating in the mission at logistics positions at the airport in Bagdad, as well as to the statement of the President Djukanovic after the Summit in Brussels, stating that Montenegro Intends to send its soldiers to this venture.
Through headlines such as "Cannon Fodder: The Army of Montenegro – a part of the NATO structures on battlefields in Iraq, Milo's Army Fighting for American Interests" and selective reporting of the facts, portals, such as in4s.net, b92.net, srbijadanas.com, standard.rs, novosti.rs, kurir.rs, aspire to deceive public when it comes to this sensitive issue.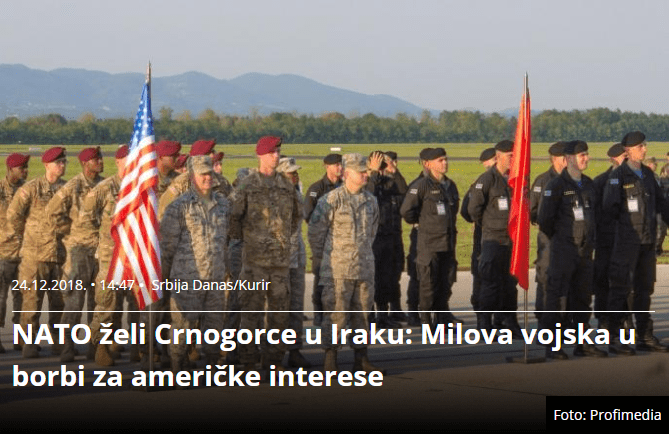 Spreading disinformation and propaganda through the Internet, especially via social media has been in the center of debates in the last years, due to the severity of the issue, but also because of the urging need to counter that issue, particularly after the US elections in 2016. It should be emphasized that portals b92.netand kurir.rs are the most visited in Serbia, with 36 million views on monthly basis, hence, they not only do harm to their reputation by partial reporting, but also contribute to general level of (dis)information of the society.
[1]https://shape.nato.int/resources/3/images/website/factsheet%20nato%20mission%20iraq_oct18.pdf