On July 9, Borba portal published the news about the seizure of over 100 kilograms of cocaine from a ship in the Chilean town of Vina del Mar, where were five seafarers of Montenegrin origin on board.
A number of Serbian and Montenegrin portals, such as IN4S, RTS, B92, Blic, FOS Media, Mondo, Portal Analitika have, without prior fact-checking, transmitted the news that 100 kilograms of cocaine were seized from the ship in Chilean town Vina del Mar and that there were five seafarers of Montenegrin origin who were connected with this event. It was stated that they were under investigation and detained in house arrest.
Each portal that transmitted disputable article associated it with a recent seizure of 18 tons of cocaine in Philadelphia, when members of a crew from Montenegro were arrested. One of them, portal Alo went further stating that evidence revealing Montenegrin plans for conquering the USA was found. Following that allegation, we dare say that stupidity and lie do not know the boundaries and that professionalism has stepped back before dilettantism.
On the other hand, the fact is that neither verified international nor Chilean media outlet has published the news on the mentioned event. The only information about the cocaine seizure in Vina del Mar was published on portal Soychile on March 27, 2019. It was stated that four persons (three men and a woman) were detained because they possessed 195 doses of cocaine paste. The value of seized drugs is more than 2 million dollars.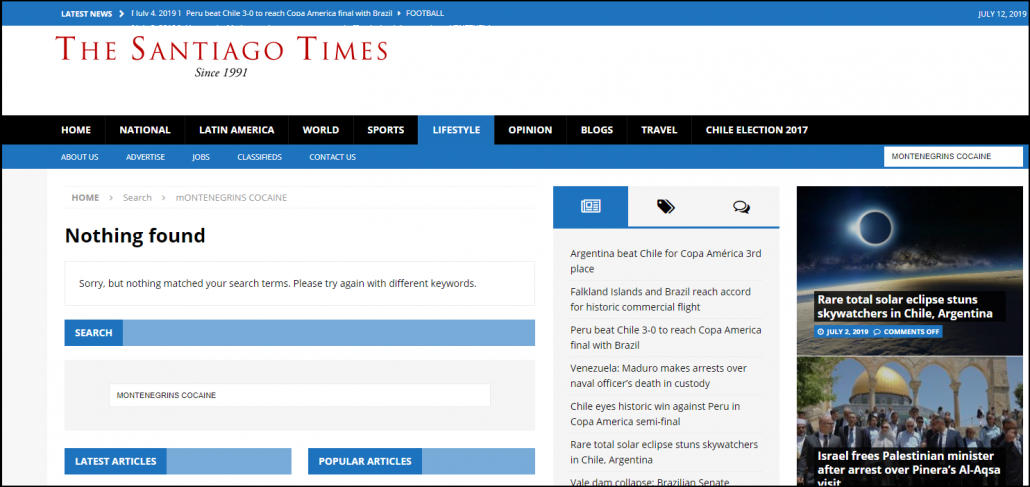 The substantial question is why the news published on portal Borba was not published by any Montenegrin national media since they previously transmitted the information about the arrests of part of the crew of Montenegrin origin during the seizure in Philadelphia? The logic of professional responsibility leads us to the conclusion that the described event never happened!
It is evident that the unreasonable linking of various events and the publication of unfounded content through the media represent increasingly frequent methods, serving to encourage political instability. The tendentious representation of the Montenegrin people in a negative context and the support of already existing inter-ethnic tensions are the consequences, among other things, of such a media framework.
MP's supporting fake news
The information of Borba portal was even more promoted by Nebojsa Medojevic, MP of Democratic Front, who posted a comment on Twitter – Djukanovic company keeps going. There is no resting as the restructuring takes place. Led by a maxim, the goal justifies the means, the political blocks use in various manners promotion of disinformation, whereas they become a dangerous weapon.