According to the latest report of the Borba portal, Montenegrin seafarers were once again the actors of seizure, this time 300 kilos of cocaine from a European company's ship in the Philippines' capital, Manila.
Article under the headline 300 kilos of cocaine seized in Philippines: Among the arrested are seafarers from Montenegro! , published by Borba portal on August 21st 2019 states that the arrested seafarers are from Montenegro, while in the article itself portal denies the very headline by the following sentence: Authorities have not announced the identity of detainees, and ten crew members were deprived of their liberty. Therefore, we can classify the title itself as clickbait, since it is quite clear that it was used for the purpose of arousing curiosity, attracting attention and ultimately, getting a review.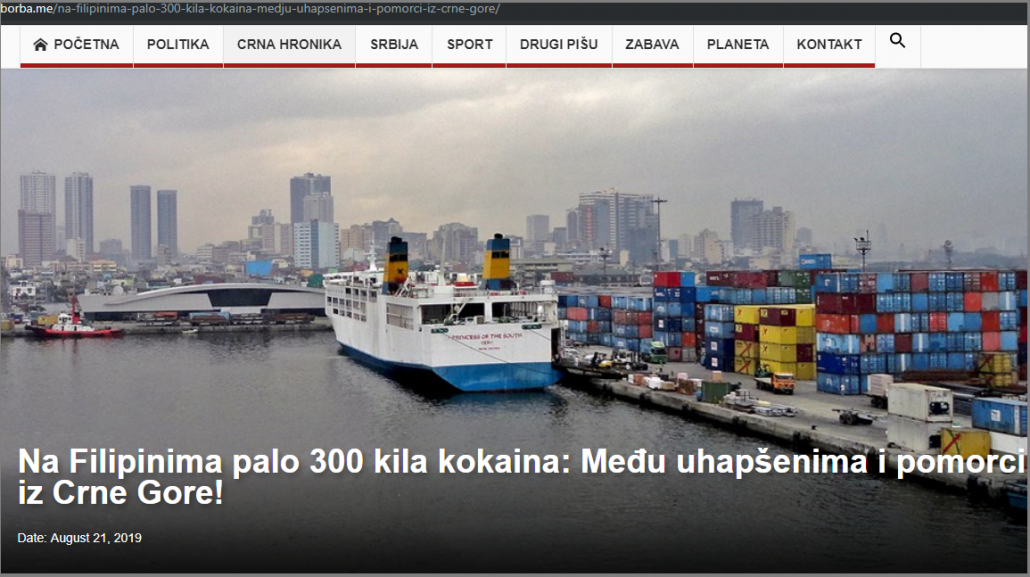 On the other hand, the fact that no media from the region transmitted the text of the Borba portal, just like with the false announcement of seizure in Chile, prompted the DFC to launch a research and determine whether this time it was fake news as well.
A more thorough survey of credible Philippines' media outlets, including the Manila Bulletin, Philippine Daily Inquirer, and The Manila Times, showed that no cocaine seizures or arrests were mentioned, and that there were no articles stating that something similar has recently happened in Manila. The only thing to be found was information related to the seizure in Philadelphia, which actually happened. A Google search also doesn't provide results for this topic.
Unfortunately, the frequent tendentious announcements of the Borba portal clearly aim to, through their propaganda activities, portray Montenegrins as bad guys. Relying solely on its own sources, never on publicly available official information, the announcements of the Borba portal are a threat to professional journalism and impartial and truthful informing.