The video showing a girl singing the anthem of Serbia Boze pravde, with Putin playing it on the piano at the background, was published originally by IN4S portal on September 7
IN4S posted this video with the intention of highlighting the fraternity and the affinity of the two nations – the Serbs and the Russians. The same day, the news with headline LOOK: "Boze pravde" played by Putin and Nina Pesic (VIDEO) appeared on Sloboda CG portal, as well as on a Facebook page Polucija. Even though the video exists, but only dubbed, on a YouTube channel named Truman Seeker since February 23, 2019, the abovementioned Facebook page disclosed the deception.
Polucija, well-known troll page, published a video as original in which Putin may be heard playing a well-known tune Cesarica by Oliver Dragojevic, while waiting to meet President of the People's Republic of China Xi Jinping.
An open-source search shows that neither does the Russian President play Boze pravde nor Cesarica. The original video dating back from May 2017 shows Putin playing two Russian songs – unofficial anthems of Moscow and St. Petersburg while (as a participant of the first Belt and Road Forum for International Cooperation) waiting to meet President Xi Jinping in Beijing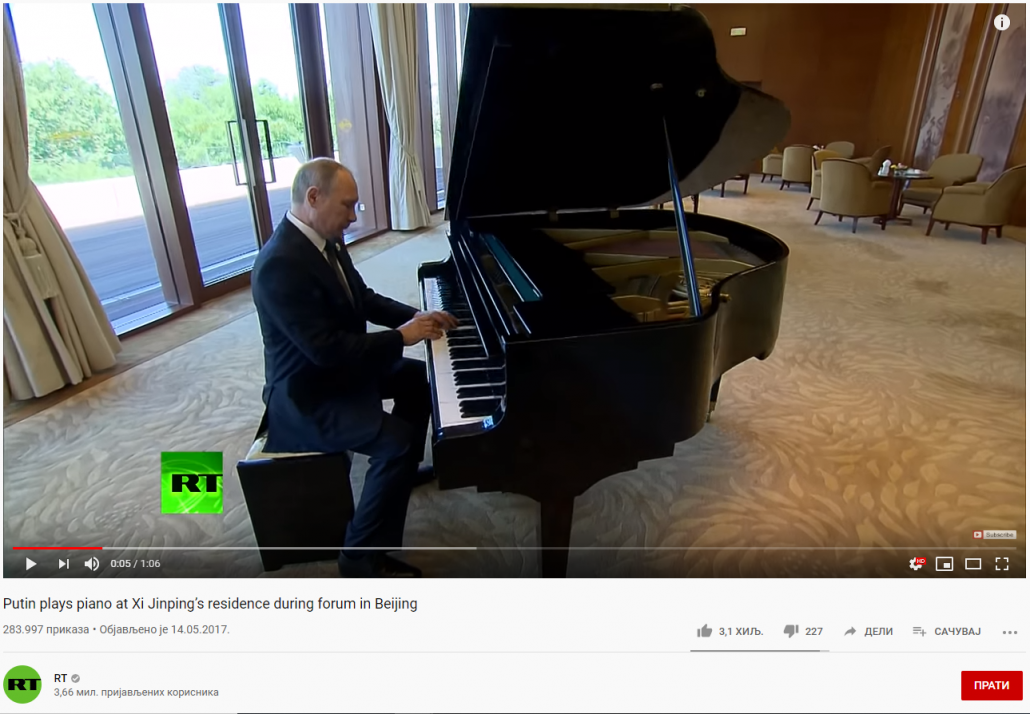 The abovementioned example, unfortunately, shows that not even children are spared of the daily political and populist propaganda, particularly because portals and Facebook pages allow certain individuals/groups to manipulate information while creating false contents.
It is questionable what brings the future in that sense, for today it is a great challenge to protect not only our children but other individuals from misuse on social networks and portals. Journalism codex and ethics do not bind those who spread their unsound ideas in the air, having one goal only: to reach as many views as possible and to get the support of those similar to them!