A movement Alternativa Crna Gora shared (on July 27) with its Facebook followers a photo of a fiscal receipt from Iberostar Heritage Grand Perast Hotel, which provoked many negative comments. In this way, this political party joined a quite big number of those who try very hard to present Montenegro as an undesirable tourist destination.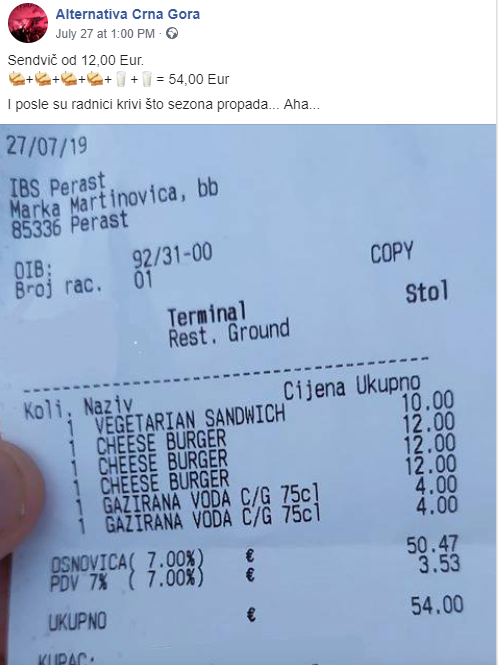 Just recently, a pricelist of room service which turned out to be from Splendid Hotel was criticized. The latest news refers to the fiscal receipt of Iberostar Heritage Grand Perast Hotel, also categorized as 5-star hotel, which is a part of Iberostar, renowned Spanish hotel group.
Followers of the abovementioned party, those inclined to criticize the internal state in the country, have left ironic comments, resentful because of high prices, which, according to them, are exactly the reason of bad tourist season. Rare were the ones who noticed that the renowned hotel brand was in question, expressing their surprise that this post came into public and attracted that much attention. This makes the post, intending to put blame on high prices for the collapse of the tourist season, completely senseless.
Even though the mentioned publication is not fake news (as was Splendid case), because the author was familiar with the fact that it is about Iberostar Heritage Grand Perast Hotel, such doings of Alternativa are interpreted as one way of attracting supporters. Giving the fact that most of complaints come from the interior where the social and economic situation is objectively worse, it is clear that such tendentious posts easily draw support of that part of the public.
However, completely advocating for the constructive criticism, we wonder whether it is justifiable to put that what is the most beautiful and the most valuable in Montenegro in a negative context without any grounds, even more so in order to obtain petty political points.
According to the European Travel Commission Report from July 2019, Montenegro has reached the highest level of tourist growth during this year, compared to other European countries for which data are available.

The National Tourism Organization stated on August 12 that the record breaking revenue from fees was recorded since the beginning of the year, and that 12% more tourists visited Montenegro this year compared to the same period last year. According to the data of the mentioned relevant institutions, it could be said that this-year's tourist season is to be successful, contrary to sceptics who forecast its collapse.